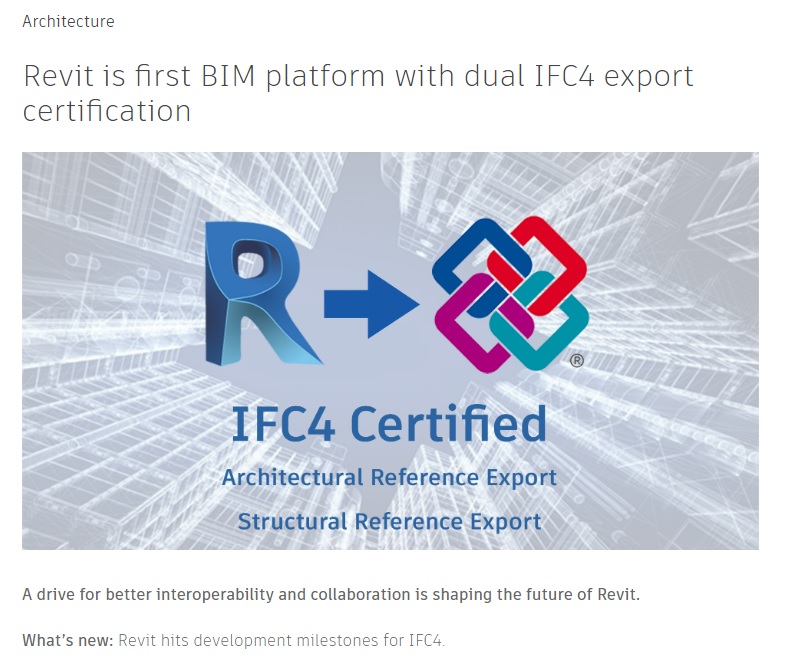 Dual IFC4 Export Certification. buildingSMART International (bSI), standard-bearer for interoperability and data exchange in the AEC industry, has certified Revit for Industry Foundation Class 4 (IFC4) Reference Exchange compliance for both architecture and structure exports. This makes Revit the first BIM platform to certify export for both architecture and structure, improving access to reference data for collaboration across platforms and products. More IFC development is on the way, with MEP export certification targeted next, and Autodesk's place on the Strategic Advisory Council (SAC) secured to accelerate the push for more open standards across the industry.
Open Design Alliance Partnership. In September, Autodesk announced a new partnership with the Open Design Alliance (ODA). "We know our customers use a variety of tools to achieve their goals," said Autodesk Senior Vice President for AEC Design Solutions, Amy Bunszel, of the move. The partnership furnishes access to Software Development Kits (SDKs) for Revit through the ODA.Adds Bunszel: "We are committed to creating an environment where collaboration is efficient and seamless, and, looking ahead, envision a future that frees our customers from exchanging cumbersome files and embraces workflows that transfer just the data needed to achieve the desired outcome."
Architosh goes in-depth with Autodesk CEO Andrew Anagnost. Finally, don't miss Architosh's three-part investigation into AEC industry futures. Architosh Editor-in-Chief Anthony Frausto-Robledo lays out the collective challenges facing AEC practitioners and technology providers alike, and seeks to clarify with Anagnost the intent around advancing IFC development for Revit.A conversation that starts around the pursuit for better IFC interoperability broadens into a discussion of Autodesk's view of an more open AEC ecosystem, through common data platforms and APIs."I'm a veteran of the data interoperability wars in the era of product design and engineering industry," he says. "This is something I've watched play out in an industry that is much more digitally mature than AEC. And I think one thing we can all acknowledge right now—intermediate file formats are a temporary hack."
Source from Autodesk's Official Website.